Some Basics about Brittany
Where am I??
In exploring Breton music, dance, and culture, it is important to start with a few maps.
Departments
Departments are government-defined administrative units which often cut across cultural borders. In fact, the French government has defined "Bretagne" as a region which excludes the department of Loire-Atlantique. The decision by the Vichy government of France in 1941 to chop off this historically important area of Brittany (which includes the historical capital of independent Brittany, Nantes) continues to be protested by Bretons.
Upper Brittany (Haute-Bretagne in French; Breizh-Uhel in Breton) is the eastern half of Brittany and the French language predominates here, with a unique Franco-Roman dialect called Gallo in the countryside. Lower Brittany (Basse-Bretagne in French; Breizh Izel in Breton) makes up the western half and in this area the Breton language is still concentrated and still spoken by some 300,000 people as their everyday language.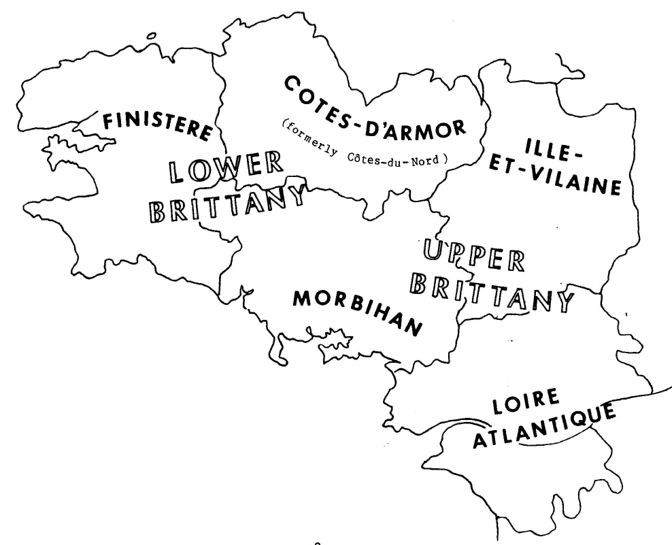 Dioceses
These are areas were established by the 9th century as basic religious areas. today they are still important as major cultural areas. The four western dioceses: Leon, Treger, Kernev and Gwened correspond to the four major dialects of the Breton language.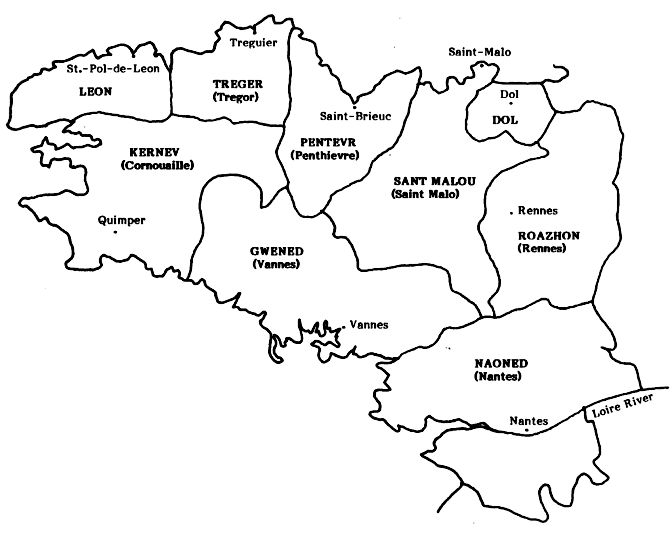 Pays
Called "pays" in French ("country") or "bro" in Breton, these areas are marked by distinctive cultural differences in music, dance, costume, architecture, and subtleties of language, in addition to distinctive economies. The borders are fuzzy and no definitive map has been produced since research is always underway to better understand these areas. The map which follows should be considered a rough draft only, but it will give you a few names you may see in Breton writings about music and dance or in record jacket notes. For more details, the organization called Dastum could be contacted (see information in this guide).